Last night we had our first proper guild heroics as ASA on Legends! We haven't really done any of them with a full guild group before - some have run heroics with non-guilded buddies and randoms but yesterday was the first one with 8/8 ASA!
We've not rushed into these, we've tried to set our characters up some first, and even if we're far from done setting ourselves up (like, i'll trade M'aks Precision 6/Constitution 6 Issued Bounty Hunter ring for....anything, lol) i think last night was more or less a total success! It was Q, Darklady, Crumb, Tam, Jozi, Bourn, Edio and myself who went at it and we started off with IG88 and Axkva Min. Myself i have major blank spots in memories of the heroic instances hehe so i expected somewhat wobbly battles but i must say it turned out much better than that! Because of a lot of know-how among the other in group - and also a lot of things that suddenly surfaced in mind when doing the first heroics in 6 years or so - we had a couple smooth runs, fast ones even! DPS, tanking and healing, it all worked very nicely, good job ya'll!
Then ofc there had to be a server reboot, but that really only improved things since it gave Edio time to download and install TeamSpeak, so for the rest of the heroics we had excellent communication within group too - using voice comm when doing dungeons and such really makes things so much easier and more fun!
After reset we went to Mos Espa to save the place from that nasty Tusken King, and yet again we had a great run! I was at times somewhat lost in the city2, but just like earlier in the evening things kept coming back to me. Well, with a few ppl in group who more recently had updated themselves on mechanics and tactics we never had any problems anyway - smooth run!
We  were a tad worried that Jozi who was sending experts would grow stuck in Mansion, since all the npc kept on spawning just there lol!
After TK we went from sandy surroundings to the far less dusty space, and Jozi flew us up to ISD. Again things went very smoothly, first attempt kills everywhere quick and easy, Edio got himself a Pilot Ace backpack and we who needed collected those 3 statues for Collection up there - good run!
Then onto the most challenging one - EK! I must say i wasn't worried really, someone had said EK was the only one of the heroics they dreaded but hey - we did plenty of EK's in Dawn back then, even with myself Teh Eternal Noob in group, how hard could it be?!?! Well, it was a bit harder...but not too hard! First room went like clockwork which was amazing especially since we don't carry tons of Heroic jewelry and buffs, and some of us are a bit rusty 6 years later (ok ok, so i'm very rusty....) - it doesn't take much in there really for someone to accidentally get group wiped, but not this time! We continued on and only got halted a bit at Clenched Fist of Hate who decided to time some big hits with missed heals on tank - he wiped most of us and reset....
But, we got him at 2nd try (which is really good tbh) after we had rebuffed some - it was tough this time too though and ended up with just me an Crumb alive (i was quite surprised when i was standing on farside of bridge cursing my burning character and Clenched dude comes running to me with very low health, i was lucky enough to take him out) so it was a bit of carnage like Crumb said looking at the pile of slain guildmates!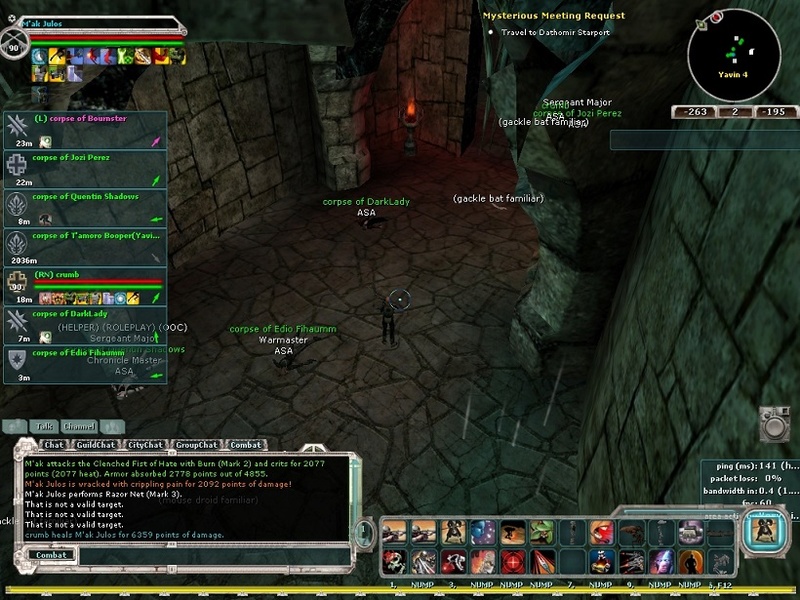 Final stage went really well, Tam did a splendid job tanking Wrath while the rest of us were playing ping-pong and generally enjoying ourselves, and the final bosses were more or less pieces of cakes - again i must say we all did super good!
With 5 successful heroics done we decided we'd conquer Hoth too, and so we did! Ok, it didn't end up in a flawless run but that had been a bit much to expect really in comeback, but we still got ourselves a couple tokens! We also got reminded that Unkajo the big panda can be really nasty if not fully geared and buffed up for it, lag really didn't play on our side either - in a way funny though never knowing when and where my traps were to be applied...positive thinking FTW! Well, Hoth was fun, and that is what matters!  If we continue gearing up and refine our tactics a bit we'll ace Hoth soon too!
Thanks all for a few very nice heroics, you rock!